Hellllooooo!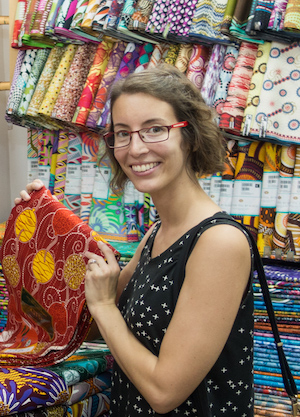 I'm Hélène Martin and I build Cora. That's me doing one of my favorite things: touching all the fabrics and especially the red ones. 😆
I started sewing when I was in high school because I felt like nothing in stores fit me. I picked up some patterns, sewed them up as accurately as I could and was shocked when they didn't fit either.
My mom consulted her social network and luckily found me a talented mentor who saved me from myself by teaching me about fabric, proportions, fit and so much more.
My trusty Bernina Record 830 went to college with me and I sewed as much as I could while studying computer science. Work has taken up a lot of my time in the past several years since but I've continued to lurk on all my favorite sewing blogs, accumulate too much fabric and make lots of comfortable knit tops and dresses.
In 2014, my husband Yaw and I decided to leave Seattle and become nomadic. We sold everything except for my fabrics and sewing things (ok, and wedding gifts), lined up some software development work and took off. We've been wandering since and you can check out where we've been. I miss having my own sewing gadgets terribly but I've found creative ways to borrow supplies and sew on the road.
I'd been thinking and talking about an app for fabric stash management since I started sewing and in early 2016, I decided it was time to roll up my sleeves and build what I wanted. Cora has been a great way for me to make better purchasing decisions as I pick fabrics on our travels and to keep track of my fabric stash which is now spread between several states. I hope you've found it helpful, too!
Why 'Cora?' I have so many ideas for the future of this app that I didn't want the name to restrict me to fabric cataloging! The short, sweet name evokes friendliness and efficiency which are very important principles I want this app to follow.
Thanks for joining me on this adventure!
If you're into technical details, Cora is written fully in Swift and uses Realm for data persistence. I've also enjoyed using the Eureka form builder.
Don't hesitate to get in touch with any questions, comments or suggestions. 💜